"The impossible is not Moroccan." – Atlas Lionesses make History in Perth
The Atlas Lionesses made history by qualifying for the last 16 of the FIFA Women's World Cup after beating Colombia 1-0 and knocking out Germany in their first-ever appearance at the tournament.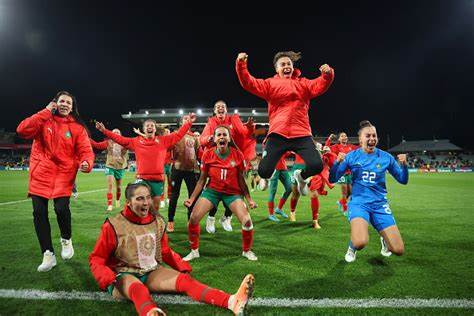 Rosella Ayane, the squad's standout scorer, called Thursday's achievement "an incredible win" and a "fantastic team effort."
The Atlas Lionesses were hammered 6-0 by Germany in their first game before claiming their first World Cup victory against South Korea.
Germany, a two-time global champion, was knocked out of the Women's World Cup after tying 1-1 with South Korea.
It is the first time that Germany, ranked second in the world and one of the favorites to win the event prior to the tournament, has failed to go past the quarterfinal stage in the Women's World Cup.
Moroccan fans paid thanks to and admired the team's outstanding performance and extraordinary journey, since they had already been the first Arab country to qualify for the Women's World Cup.
Following the continent's unprecedented triumph at the Fifa Men's World Cup Qatar 2022, African teams are once again making waves on the global stage.
Morocco's qualification marks the first time in the competition's history that three African nations have reached the last 16 of a Women's World Cup.
Elsewhere In just their second Women's World Cup, a valiant Jamaica held Brazil to a 0-0 draw to go to the knockout round for the first time while handing the South Americans their earlier departure since 1995.
One of the biggest upsets of this tournament has been the early exits of Germany, Olympic winners Canada, and Brazil.
Only three teams, Sweden, Japan, and England, have an unblemished record in the knockout rounds.