"Russian Black Sea Fleet Commander Viktor Sokolov Surfaces Alive in Moscow Conference Webcam Footage."
 The Ukrainian Special Forces on Monday said that Viktor Sokolov and 33 other officers had died in a missile strike on the fleet's HQ in Sevastopol.
However Russia's defense ministry released a footage on Tuesday showing Viktor Sokolov, the commander of the Black Sea fleet, attending a defence board meeting via video call.
The conference meeting is said to have taken place early Tuesday morning in Moscow.
Viktor Sokolov is seen appearing at a meeting in a Video call footage released by the Russia's defense Ministry on Tuesday a day after the Ukrainian Special forces claimed that he was among those who had died of the missile strike launched by the Ukrainian forces on Friday last week.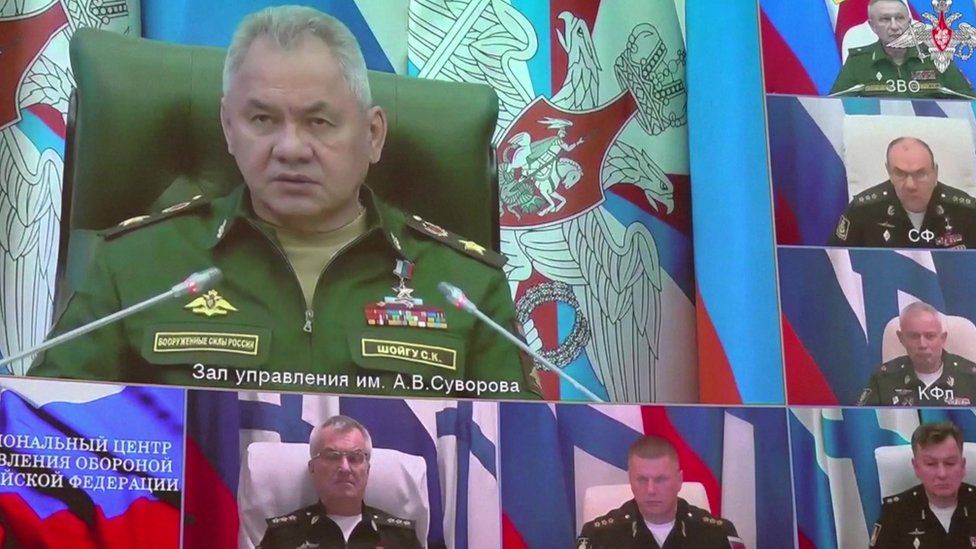 The Black Sea Fleet Commander, Viktor Sokolov, is plainly visible in the 8-minute video that the Russian Defense Ministry released, appearing by webcam alongside other senior military officers.
The Russian defense ministry allegedly informed the Kremlin on Tuesday that it had "not received any information" regarding Viktor Sokolov purported demise.
Sokolov was not listed among those who perished as a result of the missile strike in a statement from the Russian defense ministry, which also stated that the meeting had taken place earlier in the day.
In a Telegram thread, Kyiv stated that it was "clarifying the information."
"As is known, 34 officers were killed as a result of a missile attack on the headquarters of the Black Sea Fleet of the Russian Federation. Available sources claim that the commander of the Russian Black Sea Fleet was among the dead. Many still have not been identified due to the disparity of body fragments."
"Since the Russians were urgently forced to publish an answer with an apparently alive Sokolov, our units are clarifying the information. This is happening within the procedure for collecting data on the results of the operation," the post added.
According to the video footage of Sergei Shoigu, Russia's defense minister, more than 17,000 Ukrainian soldiers died in September, and more than 2,700 weaponry, including seven American Bradley fighting vehicles, were destroyed.
According to Mr. Shoigu, "the Ukrainian armed forces are suffering serious losses along the entire front line."
Both sides have overstated enemy losses since Russia's invasion 19 months ago while frequently keeping silent about their own casualties.
In August 2022, Viktor Sokolov was appointed to lead the Black Sea navy stationed in Crimea.