Indian PM to hold bilateral talks with South African President Cyril Ramaphosa.
Later in the day, PM Modi is planned to go to attend open whole meetings in Johannesburg.
The plenaries will be trailed by a social execution and a feast supper facilitated by President Ramaphosa.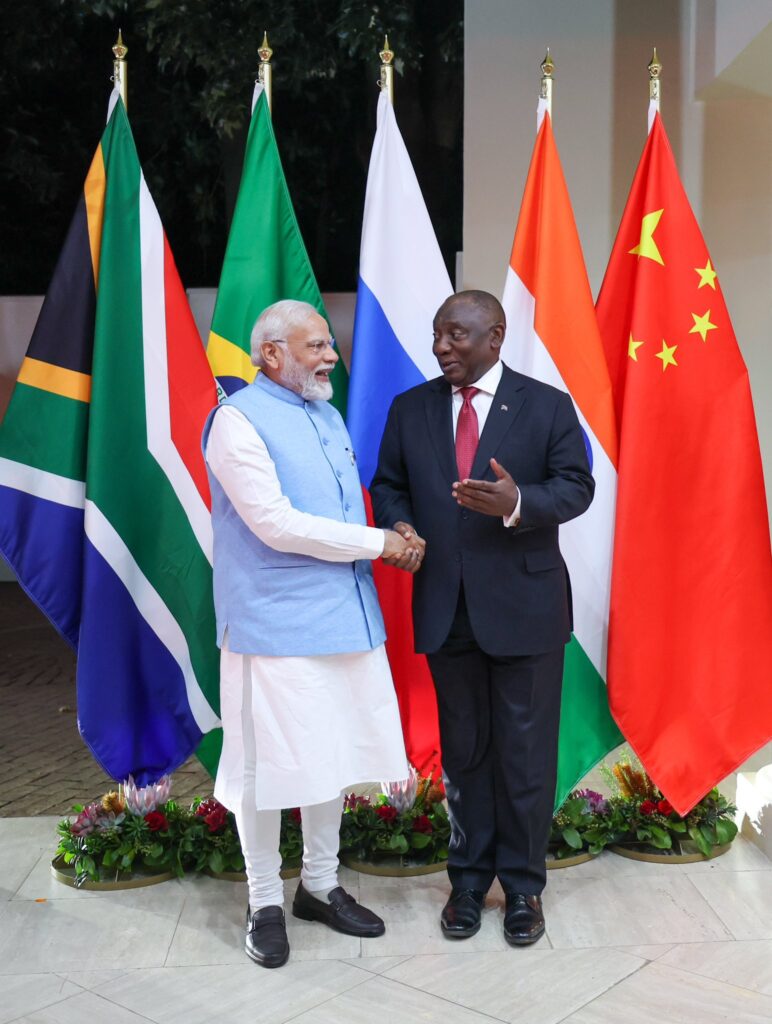 The first day of the season of the fifteenth BRICS Highest point in Johannesburg was observer to the BRICS Business Discussion Pioneers' Exchange.
In his location at the BRICS Business Discussion Pioneers' Discourse, PM Modi said India will before long be a 5 trillion dollar economy and before long will be the development motor of the world.
PM Modi's extraordinary message to the exchange was that common trust and straightforwardness can assist with making a major effect, particularly in the Worldwide South.
In the mean time, Ramaphosa said as the nation has a urbanized populace and can give a steady labor force in future, BRICS nations have a chance to add to and take part in Africa's development story.
"Africa has a youthful carefully interfacing and urbanizing populace. A populace that gives a steady labor force to organizations in future. The interest in abilities… keeps on developing," President Ramaphosa said.
Not long after the Business Gathering, PM Modi showed up at the Late spring Spot in Johannesburg to partake in the BRICS Pioneers Retreat where the heads of the gathering will ponder on worldwide turns of events and investigate how to use the BRICS stage really to address and determine worldwide difficulties.
Brazil's Leader Luiz Inacio Lula da Silva, Chinese President Xi Jinping and Russia's Unfamiliar Clergyman Sergei Lavrov went to the occasion.
PM Modi showed up in South Africa prior on Tuesday and got a formal greeting at Waterkloof Flying corps Base.
Upon his appearance, PM Modi got a stirring greeting from the Indian diaspora reciting 'Vande Mataram' and the individuals from the Indian people group were sitting tight for PM Modi's appearance to invite him with 'dhols' outside the Sandton Sun Inn in Johannesburg.
Ladies individuals from the Indian diaspora attached 'Rakhi' to the wrist of PM Modi as they invited him to the country. The state head likewise examined a model of the Swaminarayan Sanctuary in Johannesburg.
The under-development sanctuary once finished by 2025 will be the biggest Hindu sanctuary in Africa and Southern Side of the equator.