FIFA Bans Former Spanish Football Federation President for Three Years Over World Cup Incident
Former Spanish Football Federation president, Luis Rubiales, has been handed a three-year ban from all football-related activities by FIFA.
"The FIFA Disciplinary Committee has banned Luis Rubiales, the former president of the Spanish Football Association (RFEF), from all football-related activities at national and international levels for three years, having found that he acted in breach of article 13 of the FIFA Disciplinary Code.
The decision stems from an incident during the Women's World Cup final in August, where Rubiales forcibly kissed Spain's star player, Jenni Hermoso, during the medal ceremony. Hermoso stated that the kiss was non-consensual, a claim that Rubiales vehemently denies.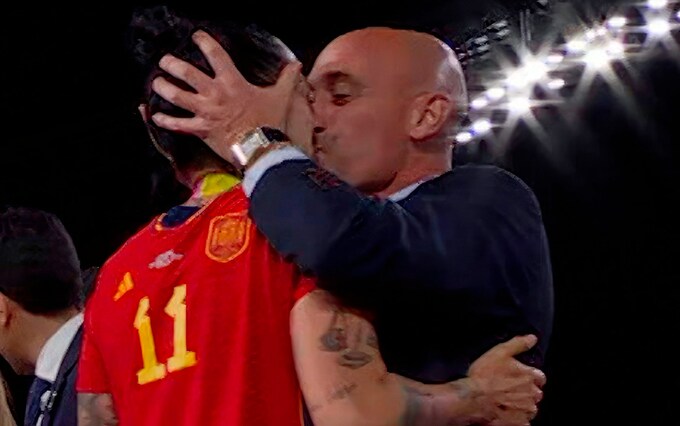 The ban was enforced under article 13 of the FIFA Disciplinary Code, which pertains to "offensive behavior and violations of the principles of fair play." Rubiales, who had initially received a 90-day suspension in the aftermath of the incident, is now prohibited from engaging in any football-related activities at both national and international levels.
"Mr. Rubiales has been notified of the terms of the Fifa disciplinary committee's decision today.
"In accordance with the relevant provisions of the Fifa disciplinary code, he has 10 days in which to request a motivated decision, which, if requested, would subsequently be published on fifa.com. The decision remains subject to a possible appeal before the Fifa appeal committee."
This incident caused a seismic upheaval in Spanish football, overshadowing Spain's historic Women's World Cup victory their first ever title in the competition. Rubiales' controversial actions also included grabbing his crotch and carrying a player on his shoulder during the post-match celebrations.
Following weeks of intense criticism, Rubiales ultimately resigned from his position last month. This decision came after calls for his resignation from various quarters, including players and fans. Additionally, the incident led to the dismissal of World Cup-winning manager Jorge Vilda, who had been a staunch ally of Rubiales.
FIFA emphasized its commitment to upholding basic rules of decent conduct and respecting individuals' integrity. The ban is subject to possible appeal.
"FIFA reiterates its absolute commitment to respecting and protecting the integrity of all people and ensuring that the basic rules of decent conduct are upheld," the governing body said.
The former president is also subject to a restraining order, preventing him from coming within 200 meters of Jenni Hermoso. FIFA has stated that the ban is subject to a possible appeal.